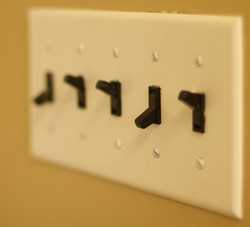 Published on Scarsdale Patch http://scarsdale.patch.com/articles/e-motion-wheres-the-onoff-switch-for-feelings
Remember this old children's song? Barney sang it often on television.
"If you're happy and you know it, clap your hands
If you're happy and you know it, clap your hands
If you're happy and you know it, then your face will surely show it
If you're happy and you know it, clap your hands."
Barney sang a lot of songs about positive feelings and attitudes. The thing about Barney was, his focus was pretty one sided. To Barney life was always happy. Problem is, we aren't always happy. What are we supposed to do when we are:
·
Sad and we know it?
·
Angry and we know it?
·
Upset and we know it?
·
Worried and we know it?
Do you ever wish your feelings came with an on/off switch? I know I do.
Imagine how that would be if:
You find out you've lost your job, start feeling depressed, and, click -- turn off the negative feelings and enjoy a great evening with your family.
You get hurt by criticism from a friend, start feeling upset, and, click – turn off the hurt feelings and move right into planning your next get-together.
You and your partner get into a fight, you become angry, and, click -- turn off the anger and it's like it never happened.
Which feelings would you click off most often? Which feelings would you want to keep turned on?
I think I can guess. And so can you.
Positive feelings, like joy, happiness, delight, pleasure would get the ON switch.
Negative feelings like sadness, fear, bitterness, insecurity would get the OFF switch.
But wouldn't that leave us rather one sided as people? It would be like living in a Disney World happy bubble all the time. Happy bubble places are fun to visit for Spring Break, but they aren't real life.
We all know that life includes both positive and negative feelings. Rather than focusing on an on/off switch, it is more important to learn to handle the feelings we'd prefer not to have. Learning this leads to resilience to bounce back from tough times. When we have resilience, we can cope with times that make us sad, afraid, or worried. We know we will bounce back. Joy and pleasure lie ahead. When we have this kind of emotional health, we recognize our feelings, have control over what we do with them, and cope when the going gets tough. This is easier said than done, of course.
To get a better handle on feelings (much better than an on/off switch, really) here's 10 suggestions from the American Psychological Association on how to build resilience to better handle life's wild mix of feelings. I think they're pretty good.
Make connections. Good relationships with close family members, friends, or others are important.
Avoid seeing crises as insurmountable problems. You can't change the fact that highly stressful events happen, but you can change how you interpret and respond to these events.
Accept that change is a part of living. Certain goals may no longer be attainable as a result of adverse situations. Accepting circumstances that cannot be changed can help you focus on circumstances that you can alter.
Move toward your goals. Develop some realistic goals. Do something regularly -- even if it seems like a small accomplishment -- that enables you to move toward your goals.
Take decisive actions. Act on adverse situations as much as you can. Take decisive actions, rather than detaching completely from problems and stresses and wishing they would just go away.
Look for opportunities for self-discovery. People often learn something about themselves and may find that they have grown in some respect as a result of their struggle with loss.
Nurture a positive view of yourself. Developing confidence in your ability to solve problems and trusting your instincts helps build resilience.
Keep things in perspective. Even when facing very painful events, try to consider the stressful situation in a broader context and keep a long-term perspective. Avoid blowing the event out of proportion.
Maintain a hopeful outlook. An optimistic outlook enables you to expect that good things will happen in your life. Try visualizing what you want, rather than worrying about what you fear.
Take care of yourself. Pay attention to your own needs and feelings. Engage in activities that you enjoy and find relaxing. Exercise regularly. Taking care of yourself helps to keep your mind and body primed to deal with situations that require resilience.
Additional ways of strengthening resilience may be helpful. For example, some people write about their deepest thoughts and feelings related to trauma or other stressful events in their life. Meditation and spiritual practices help some people build connections and restore hope.