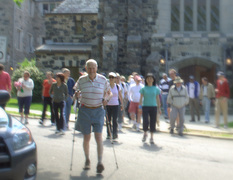 When is the last time you walked 10 miles?
Err….have you EVER walked 10 miles?

From http://scarsdale.patch.com/articles/e-motion-get-inspired

When a 90 year old person suggests you "take a walk together" the image that comes up for me is this: a painfully slow amble down a hallway while holding his/her arm en route to the dining room of a nursing home.

Well, try this image on for size: a ten mile walk from Scarsdale up to the Kensico Dam AND BACK with only two rest stops! That's about 20,000 steps and 3-4 hours straight of walking, at a pretty good clip.

Well, Gil Erskine, age 90, did just that last Saturday, along with about 30 others from our community. He's at the front of the pack in the above photo, striding out with his walking poles and a huge grin. And, yes, he's really 90 years old. Just so you know, I saw him the day after the walk and he was alive and kicking, still wearing the huge grin. Way to go, Gil. And, way to go, to all the other walkers too!

Gil started this walk after hearing his pastor challenge the congregation to "Uncover your mission in life!" His first thought (then age 89), was, "Well, I guess he's not talking to me today, I'm too old to have a mission to uncover yet in this life." And then, listening further he heard this: "Everyone has a mission, large or small, young or old. Find your mission in life by uncovering your passion in life."

Gil thought, "I like to walk! And, I like to raise money for good causes!"

So, he crafted the idea of a hike that would raise money for our local faith communities. He would invite people from the different houses of worship to sign on, get sponsored, and take a long walk together. Getting to know each other and become friends, despite differences, would be a natural bonus outcome.

For the next year he worked closely with community leaders to plan the event. He organized a trial run followed by the real deal later in 2010. And then, last Saturday, he led the second annual hike. He wasn't sure he would be able to finish it this year. After all, he is 90! But finish he did, all ten miles!

We hear a lot about military missions, aerospace missions, business mission statements, etc. I like hearing about one person's mission and what was accomplished. When we put our minds to something that is important to us and work hard, we can accomplish amazing things. Last year the hike raised $9000 for our local faith communities! That money funded important projects to help many people.

The numbers aren't in yet this year, but there's a good chance it's even higher. But, it's not all about money. Every walker I talked to last Saturday reported feeling good about joining the hike. Lots of them talked about how great it was to have different faith communities do something together and share a common goal. New friends were made. Our community is a better place because of this hike.

Passion: An unflagging and energetic pursuit of an aim; lively eager interest

Mission: A task that you consider to be an important duty; a strong inner impulse towards something.

I don't know about you, but I'm pretty inspired. Makes me think about my life and what I'm doing. And what I COULD be doing, right now at this age—AND when I'm older, like Gil! It galvanizes me to craft goals, both big and small, and go after them with gusto. It encourages me to remember how important it is to connect my passions in life with my goals.

I posted about the Hike on Facebook, and got responses from California to Canada telling me they were inspired too.

How about you?