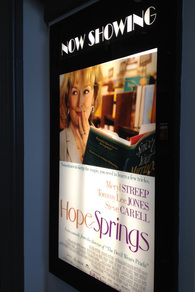 Director David Frankel took a risk to feature Meryl Streep and Tommy Lee Jones in
Hope Springs
. It's not the usual love story. It's not the usual summer blockbuster either. Hollywood, for all the respect given to AARP-aged actors, usually shows us a glamorous young couple when it comes to romance.
Action movies and animation are the more typical summer fare. Just released last weekend to do summer battle at the box office with
The Campaign
and
The Bourne Legacy
, it'll be interesting to keep an eye on the success of
Hope Springs
.
Whether it makes it big at the box office or not, I liked this film. And, I recommend it to couples! Whether your relationship is new or old, in good shape or deteriorating, this movie is a good one for couples to see. Catch it this weekend at City Center 15 in White Plains or Showcase Cinema de Lux at Ridge Hill.
I'm a fan of the incomparable Meryl Streep. Add to that, the movie includes Dr. Bernie Feld, a therapist (Steve Carell from
The Office
). That's always interesting to someone like me, who is in the same profession. It does take some mental gymnastics to let go of the expectation for Carell to turn the movie into a comedy, but once you do, you get to sit back and enjoy him playing his role with deadpan aplomb. And get this; Dr. Feld has good professional ethics. Unlike way too many movies where the therapist unethically ends up in bed with the client, this movie keeps the married couple in bed with each other.
This love story shows life's realistic ups and downs. It starts with the downs. This couple is familiar with every nuance of each other, but far from connected. Their 31-year marriage is present in a piece of paper, but absent in intimacy of all forms. They no longer feel in love, or even attracted to each other. They sleep in separate bedrooms. Their conversations revolve around small details devoid of emotion. Monogamy has become monotonous for this couple.
The wife, Kay (played by Streep) realizes she wants things to be different. She asks a friend, "Do you think you can change your marriage?" Not really sure of her answer, she makes the courageous choice to try for change. She decides, "I want a real marriage again." And then timid Kay goes after it. Kay convinces her husband Arnold (played by Jones) to join her for a week of intensive couple's therapy with the prominent Dr. Bernie Feld. Arnold does join her, albeit with brilliant reluctance that only Jones could pull off.
The therapy is work–no quick glamorous fix here. There's some poignant moments, even some pretty funny ones, but there's no quick fix for this deeply entrenched couple. Dr. Feld works hard, proving he's an experienced professional. But the real work is between the couple. They work hard too. These two, who've lived together for over 30 years, get to know each other in some ways for the very first time. And, true to life, it doesn't all go well.
I don't want to spoil the movie for you, so I'll try not to.
Except to say, the courage to go after an improved marriage produces change for Kay and Arnold. Big time. At least on screen. We get a glimpse of what the future holds during the credits as time fast forwards a year.
Why not set up a date night with your sweetie and go watch it? Get a sitter for the kids if you have them. It's the kind of movie to talk about afterwards.
I would think many couples walk out of the theater wondering two questions:
Is the movie realistic?
Can marriages really change?
I did. And, here's my answer: Yes.
Creating a better marriage isn't just a fantasy for the big screen. I've watched marriages improve, over and over again in my counseling office during the course of weeks and months. Change can really happen. Things can really get better. The couples aren't well-known like Streep and Jones. They're pretty ordinary, like you and me. And they have to work at it. And, the earlier a couple shows up to work on things, the better things usually go.
Maybe you are in one of those relationships, like Kay and Arnold, where intimacy is absent. Maybe you are in a relationship where the spark is flickering, the connection waning. Maybe you, like Kay, "want a real marriage again." Or, maybe things aren't so bad but you would still like change in areas that really matter to you.
With divorce statistics what they are, it's easy to guess that plenty who watch this movie
are
in that unsatisfied group and wonder about the future of their relationship.
What does it take to make relationship change happen? Well, for starters, work. Getting help from a professional is important. Courage, commitment, effort, time, humor; all of these help too. It might sound daunting, but think about it–don't we expend these things in our education and career pursuits? Isn't our most important relationship worth the effort also?
I'll give Hope Springs my vote. I hope you go see it, whether you can claim a 30+ year relationship or not.
It might even change up your relationship for the better. How many movies can do that?
http://scarsdale.patch.com/articles/e-motion-a-blockbuster-for-couples