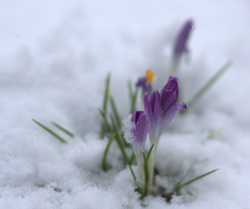 Reprinted from Scarsdale Patch
E-motion weekly article by Tamera Schreur
http://scarsdale.patch.com/articles/e-motion-step-into-spring
"Spring is when you feel like whistling even with a shoe full of slush."--Doug Larson

The first thing I do when I wake up is look outside to greet the new day. The large white flakes that returned my greeting on Monday were actually quite lovely. But "lovely" was not my first thought when I looked out and saw everything white.

In December, it might have been. But not in mid-March. Nope. I actually felt slightly outraged! Snow! How dare it snow the first week of spring here in Scarsdale?! We've had a tough winter, and while it was sunny enough to enjoy biking yesterday, why is it snowing again?!

You see, I'd already diagnosed myself with a severe case of spring fever, and this late snowfall wasn't fitting in with my treatment plan.

Huckleberry Finn gives one of my favorite descriptions of this seasonal malady. He said, "It's spring fever. That is what the name of it is. And when you've got it, you want–oh, you don't quite know what it is you DO want, but it just fairly makes your heart ache, you want it so! It seems to you that mainly what you want is to get away; get away from the same old tedious things you're so used to seeing and so tired of, and set something new. That is the idea…."

So, what did I do after seeing the snow? I decided quickly to go out with my camera and grab some cool pictures of crocuses peeking through the snow. It took me all of five minutes, even with juggling an umbrella and camera. My mood improved. I even got excited seeing the tenacity of these spring flowers. You can see my favorite photo at the top of this article.

Spring is a great time to jump into new things. New clothes and new shoes are popular. I hear that bell bottoms and clogs are going to be "in." What we put on can certainly impact how we feel about ourselves. New stuff can give a pleasant boost in the face of late winter doldrums.

Do you want a bigger boost than what is offered by new clothes? How about trying on a new habit for spring? How can you get a jump forward and "set something new," like Huck Finn suggests, in your life?

Well, pick something and get started. But pick something small and manageable. Make it a small step that fits with where you are right now in your life. You know your life best.

What is out of balance? What could use more attention? What could create more positive moods? People are really good at devising grand schemes for improving their lives. And then the big plan gets sabotaged. Simple small steps more often produce success. So choose something small but specific.

Here's a few examples from friends.


This spring, I'm walking home from the train station at least once a week. I'm already feeling better.
I'm taking one minute to start and end each day giving thanks for something specific. I'm finding I'm even sleeping better.
I'm making my first words to my spouse after work positive ones instead of my usual complaining about what went wrong with the day. We both like this better!
I'm buying baby carrots to snack on instead of peanuts.
I'm asking friends, "How are you doing?" And then I'm trying to really listen to their answer.
I'm stopping to let pedestrians cross in front of my car and enjoying seeing how surprised (and grateful) they are. It makes me feel good.
I'm trying to read a book I enjoy each month. And then talk about it with someone.
I'm giving more compliments, even though sometimes they're hard to come up with.
I'm remembering to take deep breaths and relax my shoulders to calm down when I'm getting upset at my co-workers or kids.
New habits don't come into being fully formed. They take time to learn and develop. They are more like the crocus we see unfurling all around town. First, you see small green shoots. Then, a speck of brilliant color. And finally, the blossom turns open to the sun. Even when there is snow. So, be patient as you learn a new step. Did you know it takes about 21 days for a habit to become a natural part of our routines?

I'm curious to hear what step you pick! Let me know how it goes.