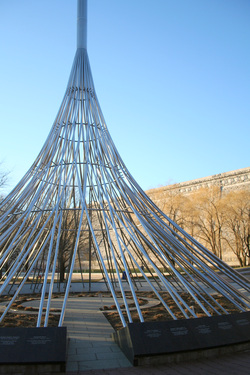 Published in Scarsdale Patch News March 30, 2011
The sun finally came out! We were desperate for some good outdoor exercise. So we got on our bikes and rode north on the Bronx River bike path. Mind you, we were wearing winter gear for this spring ride, as it was only 42 degrees. But, heh, we'd liberated our bikes from their winter storage, and we felt liberated too. It's a pretty nice ride along the river, if you tune out the cars rushing by alongside.
We cruised along, felt carefree and almost silly with spring delights.
We ended up in Valhalla facing the immense Kensico stone dam and reservoir, a water source for New York City. And there it was, in startling counterpoint to the dam, a lofty 80 foot steel memorial to Westchester victims of September 11, swaying slightly in the wind. The eye catching monument, "The Rising," memorializes the 112 people of Westchester County who died. You can literally walk into the heart of this shimmering memorial. I think its creator, Frederic Schwartz, intended just that kind of connection for visitors. Really, you don't just view this memorial-- you experience it. If you haven't been there yet, it's worth a trip, by bike or by car. Take the kids and grandparents. Uncles and aunts too.
At first, I resisted stopping my bike to take a closer look. I didn't want to lose the invigoration of my bike ride to focus on tragedy, terrorism and death. I thought I would cruise right on by and think of it as a cool sculpture. I wanted to block out the negative reason for its existence. But I did stop. And I was inspired. Invigorated even. You see, all around the base of this sculpture are quotations about life, and love, and meaning. Each victim's family was invited to add text about their loved one to be forever etched in granite. I've read (and heard read) lists of the September 11 victims' names, but I've never experienced the intimacy these quotes provided. They gave me entrée into how the people lived, what they cared about, and why they were loved. The New York Times said of this monument, "This strange, shimmering tower, which aims skyward and lifts the heart with it, seems likely to be simultaneously a place for solemn remembrance and a source of delight. That's a paradox, but one we will be only too glad to puzzle over."
Here's text from one stone that moved me deeply:
Alan W. Friedlander
April 23, 1949 – September 11, 2001
Always loving.
Always caring.
Always giving.
Always sharing.
I would have liked to meet Allan. I don't know anything about his profession, how much money he made or what size house he had, but I can tell from the inscription, he left a great legacy.
How do you want to be remembered? Most of us prefer not to think too much about our death. But, now and then, it is good to step back and do an aerial inventory of our lives. What do I value? What is important to me? Is my life reflecting these values? What would people say about me if I died suddenly?
Questions like these don't have to be macabre. They can serve as a catalyst to get our daily lives in line with our life's values. Thinking about them can help us live intentionally. It makes sense, doesn't it, to have what you view as most important show up clearly in how you live? Steven Covey, author of The 7 Habits of Highly Effective People suggests we consider beginning with the end in mind.
So, what do you want to be when you grow up? That question may appear a little trite, but think about it for a moment. Are you--right now--who you want to be, what you dreamed you'd be, doing what you always wanted to do? Be honest. Sometimes people find themselves achieving victories that are empty--successes that have come at the expense of things that were far more valuable to them. If your ladder is not leaning against the right wall, every step you take gets you to the wrong place faster.
Here's another inspiring tribute from the monument:
Ronald Bucca
September 11, 2001
Family man, friend, fireman, soldier, nurse.
An ordinary man
who lived an extraordinary life.
Our Love.
We build our life legacies each day. It's Emily Dickinson who said, "Forever is composed of nows." Visiting the memorial inspired me to act each day like I want to be remembered. Most of us are ordinary people. Let the memory of Ronald and Allen invigorate you to make your ordinary life one that includes an extraordinary legacy of loving, caring, giving, and sharing.
For further information on the memorial, visit http://www.schwartzarch.com/projects/westchester_memorial.html
Tamera Schreur is a internationally experienced psychotherapist with a new practice in Scarsdale, NY serving individuals, couples and families. She has 20 years of experience helping people build stronger relationships and better lives. Visit her website at: http://www.FamilyTherapyInWestchester.com